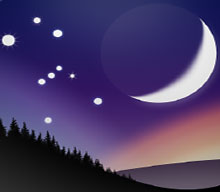 Open-source virtual planetarium software. Free download Stellarium for PC for Windows 11, 10, 8, 7 (32-bit/64-bit). (Latest version 2022).
Open-Source Planetarium Software
Stellarium is open-source virtual planetarium software for your PC. It looks like a realistic sky in 3D, just like what you see with the naked eye or with a telescope when you look at the sky.
You see millions of stars in the night sky. But maybe you don't know their names. You may not even know about that little nebula hidden among those countless bright stars.
In the meantime, you are a huge fan of night sky watching but want to know more. If you are an amateur astronomer or stargazing, Planetarium software is your best help.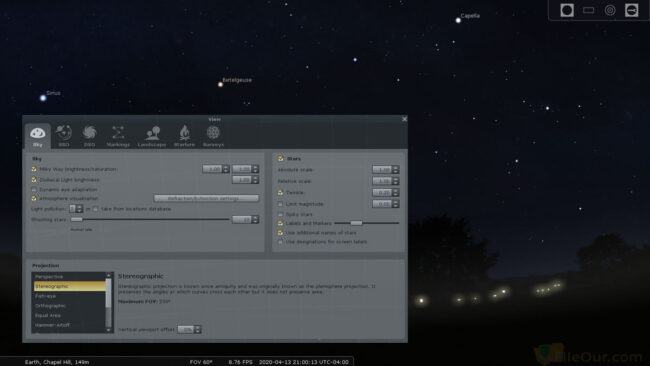 Free Software
Stellarium is free software for everyone. It consists of an intuitive, friendly interface and the necessary functions.
Executable files Complete Program
The setup file is executable (not zipped). After downloading it, when the program loads, it automatically detects the computer's video settings and sets the display accordingly. After the program is installed, you will be using it without any trouble.
How to Use Stellarium
After installing this software you need to enter the specified location. At the same time, you need to adjust your time zone.
The app defines the actual time between computers by default. Then press "F6" or select a position window on the side panel.
A menu will appear later where you can enter your city/region. You can even set your location correctly by clicking on it.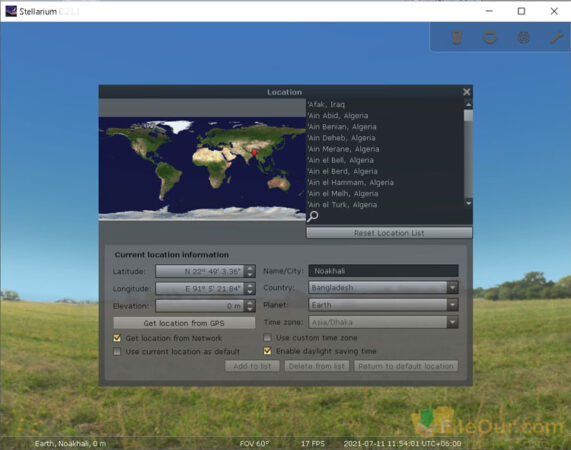 User Functionality
It has many such useful functions.
If you have this app installed during the day, its functionality will easily progress quickly from day to evening and night. If this software is used at night, then the planetary capital of the night sky can be enjoyed.
You can also select the objects that appear, such as stars, planets, galaxies, nebulae, and clusters of stars, or all of them together as you wish from the bottom panel.
It even helps you identify the stars outside, the names of the stars, and their images. Also, you can use the search option by pressing "F3". With it, you can identify any subject of your interest.
Zooming
You can zoom in to see the moon, planets, galaxies, nebulae, and star clusters up close. However, due to compression, the quality of the photos is not good.
Majesty of the Galaxy
Stellarium is not suitable for enjoying the beauty and majesty of the galaxy. But for beginners, it is good quality software.
Professional Grade
It has all the basic functions that are useful for beginners. However, if you have been a professional stargazer for some time, you can use this app. It's a suitable 3D sky map for professional stargazers.
Telescope Simulator
This app can navigate the telescope. So it should be kept in night mode while using this function. Moreover, Stellarium allows light flame layers to adjust.
There is one more special function for the detailed planning of Stargazing Night Out. Telescopes and lens features are likely to be added. First, you have to select the mode of viewing the telescope.
At the same time, you can see the field of the telescope with the help of the selected lens. So if you do astrophotography, you will be able to figure out which object will fit in the frame. Or you can check the size of any planet in your lens before buying it. You can even decide if you need it. The function in question also supports binoculars.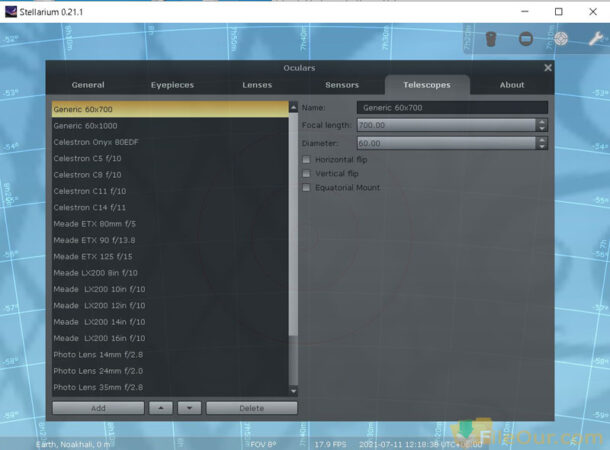 Landscape Background Image Replacement
Also, you can replace the stellar landscape background image with your own. For that, you need to make a 360-degree picture of your observation space. Besides, it has to be uploaded to the software.
Highly Effective for Stargazers
Judging from the above, it is clear that Stellarium is a simple, but multifunctional planetarium. It is extremely useful for all stargazers.
Key Features and Benefits
More than 600,000 defaults and more than 177 million stars
The default is over 60,000 and an additional 1 million deep-sky objects
Asterism and imagery of stars
Constellations of 20+ different cultures
The image of the nebula is in the complete Messiah catalog
Realistic Milky Ways
Very realistic environment, sunrise and sunset even planets and their satellite interface
A powerful zoom tool
Time control is quite simple
Multilingual interface
Renders realistic skies in real time with OpenGL
Sphere Mirror Projection for Low-Cost Domes All new graphical interface and extensive keyboard control
Iridium flame, eclipse, supernova, and nova simulations
High-quality 3D views
Round panorama projection
Leathery landscape
The plugin system includes article satellite, ocular simulation, telescope control, and much more.
Online resources have the potential to add new solar system objects
Deep-sky objects, landscapes, constellation images, adding scripts
System Requirements of Stellarium for PC
Minimum Hardware Requirement
Processor: 1 GHz and higher
Memory: 512 MB RAM
Hard Disk: 420 MB free spaces
Graphics Card: OpenGL 3.0 and GLSL 1.3
Supported Operating System
Windows Support Windows 10, Windows 8.1, Windows 8, Windows 7
OS Support: 32 bit and 64bit