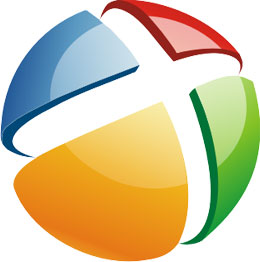 Driver downloader, installer and updater. DriverPack Solution 17.11.108 Online Installer free download for PC. Driver Pack latest version.
Best drivers installation software
Whether your device is new or out of date in the computer world. At various times he has to keep his drivers updated to keep the device active. And if you have a new Windows setup, you have to install the drivers again. But downloading and installing them separately is a lot of hassle. Even a lot of time is needed.
In this case, DriverPack Solution 2022 is used to set up any computer automatically. It makes the process of downloading, installing, uninstalling, and updating drivers on any device, including your laptop, desktop, printer.
The DriverPack Solution Online 17.11.108 is a special package of its. Your PC must have an internet connection to install the driver with this.
Easy Desktop, laptop, printer driver downloader
DriverPack is free software for setting up a computer driver. This is an easy driver solution for both professionals and inexperienced users. Eight years ago Artur Kuzyakov designed the software in his own mind.
Now more than 40 million computer users worldwide use it. The number of users worldwide is increasing day by day. In the computer world today, It's the largest database of all types of drivers.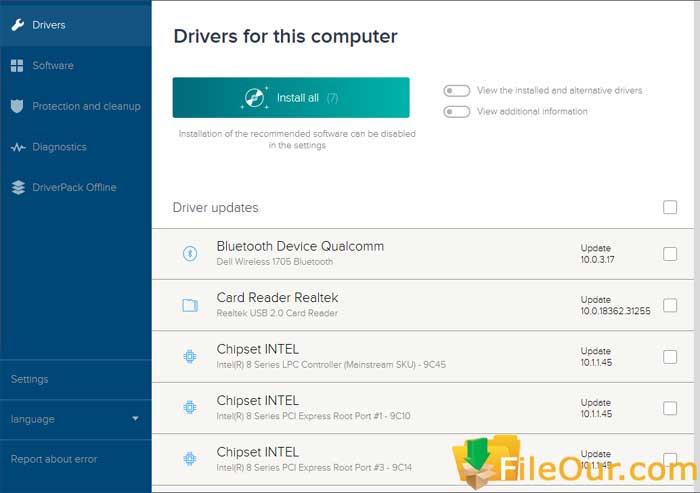 It has drivers for all popular Windows versions. But despite all the benefits, it is a completely free driver solution.
Download DriverPack Solution Latest Version Offline ISO
It provides the download or installation of any drivers in three different ways.
Firstly, DriverPack Full Offline ISO – Once downloaded it works without an internet connection. It has all kinds of drivers for any device of your choice. At the same time, the driver can install, uninstall, and update. The size of this package is very large. So you have to download it in torrent file size. Its entire file is more than 19GB. However, it is in ISO format. So without the hassle of Torrent or a big file, you can opt for the third package.
Secondly, DriverPack Offline Network – This package also works without an internet connection once downloaded. However, it only has drivers for network hardware (Lan / Wi-Fi). To get all types of divers in the offline version, you must first select the package.
Thirdly, DriverPack Solution Online – You must have an Internet connection to use this package. With one click, any driver is downloaded and installed instantly. So most users are comfortable with this package.
You can install or update all types of drivers on your desktop or laptop.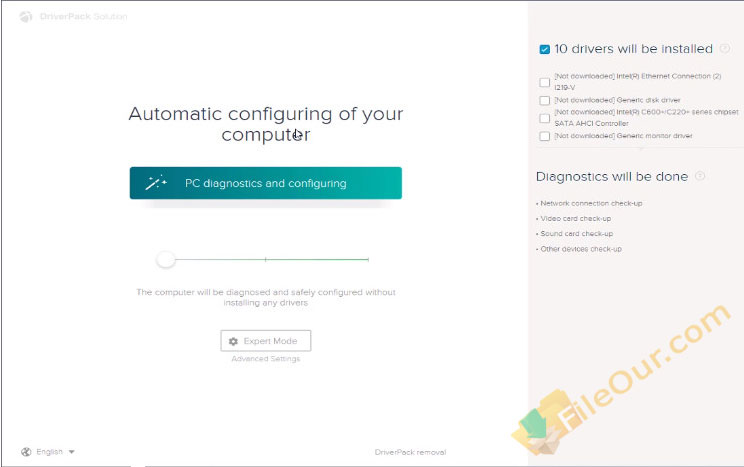 How to use DriverPack Online Solution for Windows PC
It's very easy to use. You can solve all the drivers on your PC by following just two steps.
Step 1, run Driver Pack Solution Online Installer 2022 on your device
It will automatically start scanning your device's intended drivers for a short period of time. This will create a list of drivers required for your computer
Step 2, select the required drivers
If you do not already have a driver installed on your system, click "INSTALL ALL". And if you've already installed driver, but need to be updating driver. Just click "UPDATE ALL".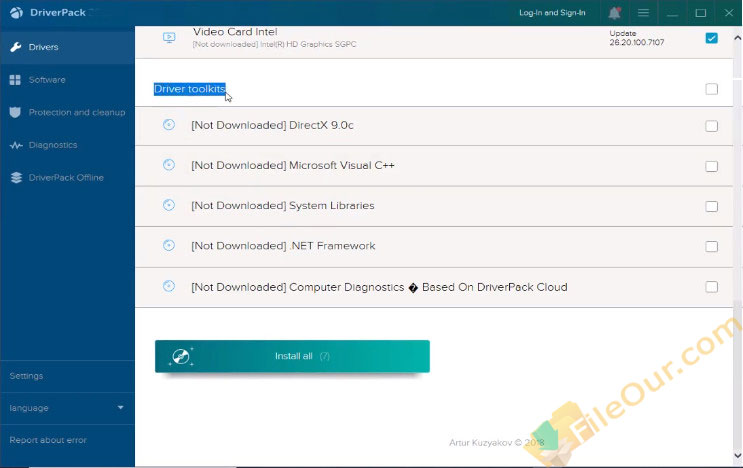 That's all. at last, restart your computer to take a good performance.
Download DriverPack Solution 17.11.108 Online Installer
FileOur offers a completely free official download link to the driver installer for laptop and desktop.
It automatic installation of drivers such as Audio Driver, Video Driver, Display Driver, Bluetooth Driver, Graphics Card Driver, Chipset Driver, Modem Driver, Misc Modem Driver, Network Driver, LAN Driver, USB Driver Mouse driver, Keyboard driver, Card Reader Driver, Mass Storage Driver, Motherboard Driver, AMD CPU Driver, Broadband Driver, HID Driver, Games driver, Monitor Driver, Printer Driver, TV Tuner Driver, Phone Driver, Webcam Driver and more.
Key Features and Highlights
Automatic Driver Scanner
Any Driver Downloader
New Driver Installer
Junk Driver Uninstaller
Old Driver Updater
Driver repair tools
DriverPack Solution 32-bit/ 64-bit Technical Details
| | |
| --- | --- |
| License: | Freeware |
| Publisher: | Artur Kuzyakov |
| Main Category: | Utilities, System, Driver |
| Operating Systems: | Windows 11, Windows 10, Windows 7, Windows 8, Windows 8.1, Windows Server, Windows Vista, Windows XP OS x86/ x64 |
| Language: | English (U.S.) |
| Setup File: | DriverPack-17-Online.exe |
| Package Size: | 8.55 MB |
| Uploaded: | Publisher |