Folder protector 2022. Free Download Folder Guard 22.3 latest version for Windows 11, 10, 8, 7 (32-bit/64-bit). Full version from $39.95.
A powerful computer security program
If you want to lock your folder or file to make sure a hundred per cent protection from unwanted users. Folder Guard 22.3 full version easily protects, lock and restrict your specific folder from any local user and network user.
The security software also may lock all allowed applications, MP3 files, video files, Microsoft (MS) office documents, and any other external drives. It's a powerful computer security program for any user.
Create Password Protect Folders and Files
With the program, you can also create permits to allow your kids to play computer games from time to time. And also restrict access to other computer Windows resources like desktop, control panel, start menu, and more system tools.
However, there are two different kinds of password unlocks facility at full access and read-only access. You can select anyone to control your file in the destination folder.
Download for PC
In conclusion, the WinAbility Folder Guard 2022 is the best folder, file password protection, and access control software. Here you will get the folder protector completely free download for installation on Windows 10, Windows 8, Windows 8.1, Windows 7, Windows Vista, Windows XP, and all Windows servers. FileOur offers a complete data security program to try to use on your personal computer.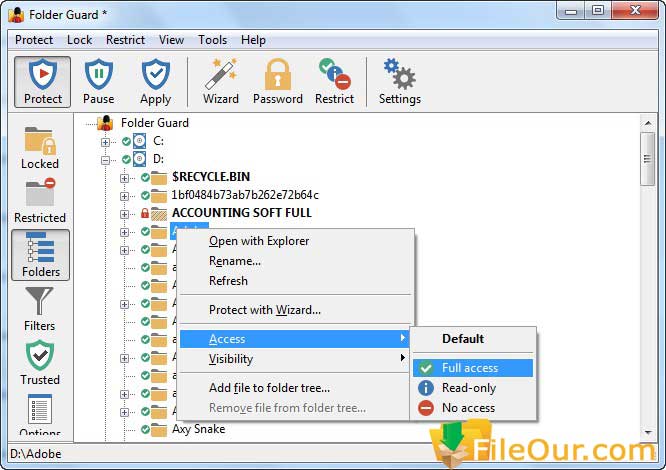 Key Features and Benefits
Easy and secure password protection software
Can lock your folder with a strong password
Can hide a specific file or folder
Quickly enable/ disable the protected folders using a hotkey
Restrict access to USB, pen drive, CD-Rom, DVD-Rom, and other removable drives
Password protecting shared folders over internet user
Operating in the Stealth Mode
Emergency Recovery Utility
Multi-language supports
Protect folder from unauthorized users
Resume lock the folder when a screen is locked
Auto-lock the folder when the explorer window is closed
Friendly control the program using a hotkey
Folder Guard 32-bit/ 64-bit Technical Details