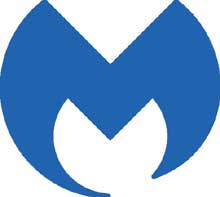 Best anti-malware. Free download Malwarebytes offline installer latest version 2023 for Windows 11/10/8/7 (32-bit/64-bit). 14-day full version.
Latest version Overview
Malwarebytes 2023 helps to protect your computer from security threats. Its main function is to scan and remove malicious software, adware, spyware, and other malicious software from the computer.
It also offers a consumer version with proactive protection while this proactive protection module may not seem important. It actually is quite useful and is much better than the original free product.
How to Install Malwarebytes Anti-Malware?
Just download this software from the bellow download button.
Double-click on the installer
Select the language to use during the installation.
Go to next
Check licenses 'I accept the agreement.
Click on Next but don't use the quick launch toolbar anymore.
Go to install now and wait sometimes.
The installation process begins it should be fairly quick but it can take some time on an older system.
Now you have a trial of the Malwarebytes full version.
Malwarebytes anti-malware is now protecting your system actively.
Malicious website blocker
This product functions as an additional tool to get rid of malware which can include viruses from your system. It has its own separate database information, its own quarantine, and its own logs.
It's well known for getting rid of threats that are normally very difficult to get rid of even with traditional antivirus.
Many unscrupulous individuals designed a lot of viruses, worms, and Trojans to sort of fool the existing antivirus,  applications and services. This program is kind of designed specially to get rid of it.
This actually goes ahead and stops you it does block malicious website activity.
IP Protector
It has IP protection. Even if you're connecting to outbound IP using Google Chrome, Opera, Firefox, Internet Explorer, Skype, or some software or program, it blocks that from its list. Because it knows that this is a bad IP address. It's being used for abuse by scammers and spammers.
It's put dirty cookies on your system and all sorts of stuff.
Quick Virus Scanner
You'll perform the quick scan now. You will find three types of scanning facilities here…
Perform quick scan
Perform a full scan
and Perform a flash scan.
You can use any of these facilities as per your choice. OK, now you can fully scan your PC by clicking on the screen button.
It detects any dangerous malicious items from deep inside your PC and removes them easily compared to other software.
Once you have the active protection enabled you don't really need to do the quick scan. If you do not find any malicious item information here, then you know that you are already getting the protection you need.
You can terminate Internet Explorer if you see something terrible going on. It file assassin helps you delete locked files now files become locked when they're in use by the operating system. But a file assassin will prevent that. A little unique tool that's available especially when some sort of malware or viruses file and you need to get rid of it.
Windows 10 safe mode scan
It also can be run in Windows safe mode. So that's a way to get rid of malware a lot easier if you run it in safe mode. But ultimately this is what the program does and it will protect your system in a way.
It's an added protection well even if you use the freeware version.
Key Features and Highlights
Malwarebytes 2023 is free software and also has a paid version that has some additional features. So I highly recommend that you can purchase the software using the download link below. However, by purchasing the full version you will have a level of protection that is really unprecedented on your machine.
You'll never really have to worry about serious threats to your machine by web browsing. There are final execution level blocking and a protection module that complements any sort of antivirus that you may already have on your system.
It's a paid version of premium antivirus but AVG, Avast, Avira, and USB Disk Security are freeware security software. If need anyone can also try this.
Here you will get Malwarebytes offline installer official download for Windows 11, Windows 10, Windows 8, Windows 8.1, Windows 7, Windows Vista, and Windows XP. It also supports Windows servers like operating systems 32-bit and 64-bit. So you can use it to keep your PC virus-free and secure.
Key Features and Highlights
It can scan faster at much higher speeds
Real-time protection against all types of malicious content
Ransomware protection software
Block any malicious link on the internet
It also scans all drives completely separately
Even this software is always able to keep the database updated
It is the best scanner and secure model
Its special quality settings
Its special password key program settings
Too many utility toolboxes
Also supports many more languages
Malwarebytes 64-bit / 32-bit System Requirements
| | |
| --- | --- |
| License: | Trial |
| Publisher: | Malwarebytes |
| Main Category: | Antivirus, Security |
| Language: | English (US) |
| Operating Systems: | Windows 11, Windows 10, Windows 8, Windows 7 | OS x86/ x64 |
| Setup File: | mb4-setup-consumer-4.5.20.230-1.0.1868-1.0.64577.exe |
| File Size: | 296.19 MB |
| Uploaded: | Publisher |
Screenshots: