To Search Everything From Computer
Suppose you have lost a file, document, or multimedia file inside the computer. But you can not remember where this file is located. Now you search for the name of the file in the Windows Search box. This may take a lot of time.
In other cases, due to a little mistake in the ward, you can not get the file. Now if you have installed Search Everything 2021 software on your computer at this time. You will find it in a tiny moment to find the file. So do not waste your time and get rid of tension.
Desktop Search Utility Software
For this reason, Everything Search Engine 2021 is a completely free and easy Windows desktop search engine tools 2021. Simply install on your computer than just type your unwanted file name by some correct word, the program instantly finds out your file in less than one second.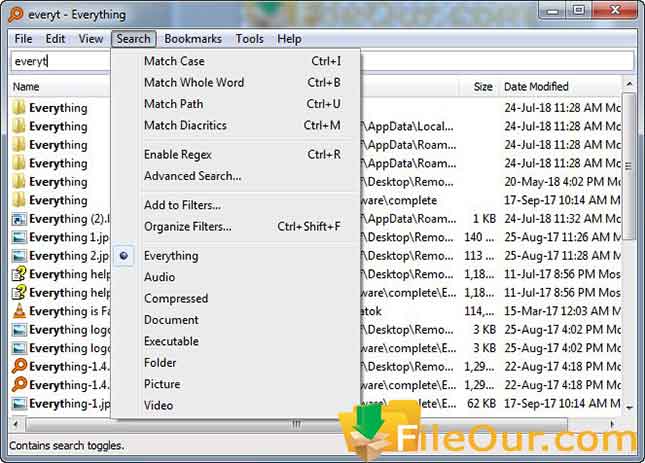 It supports many music, video, picture, images, compressed file, document, PDF file, and any other executable files.
Search Everything 2021 Free Download
In a word, Search Everything 2021 full version standalone edition is one of the best Windows file finder software. Here you will get the Everything.exe setup file update version for Windows 10, Windows 8, Windows 8.1, Windows 7, Windows Vista, Windows XP, and all Windows servers.
FileOur offers the complete free latest version of the search tool to try to use on your computer.
Technical Details