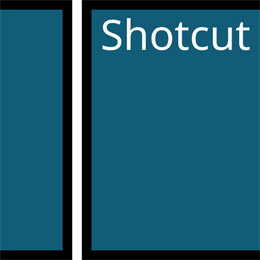 Way to Free Download Shotcut Video Editor full version for PC. Support Windows 11, 10, 8, 7 (32-bit/64-bit). (Latest version 2022).
Open-source Video Editing Software
Shotcut is an open-source video editing software for Windows developed by Meltytech, LLC. It creates, edits, and mixes your video in the shortest time. Just use these all functions in the simplest way. This is completely free for any user and also gets updated monthly.
Actually, it is very useful for beginners. The authority of the product has provided a lot of tutorials and this is so beginners love to edit with it. Also, It supports plenty of formats of audio and video formats.
Best for Making YouTube Video
If you have been involved in video editing for some time, you can use it to move forward.
Shotcut Video Editor 32-bit is very useful for YouTube users and other social media video makers. You can mix and match the display resolution and frame rate of a video file. There is a drag and drop option in this software. You can drag a file to the interface and drop it to the timeline.
Edit Audio Efficiently
This editing software also enables you to edit audio efficiently. In addition, you can set the color, maintain white balance, sharpness filters, add color saturation. It's a completely free multimedia editing tool for Windows operating system.
Undo and Redo Facility
It also maintains history from what you can see the action previously done. On the other hand, you can undo and redo your actions. So, there is no chance of mistaking.
Green Screen Remover
You can easily use the Shotcut chroma key to remove the green background and replace it with anything you want. you can overlay videos over other videos or images and you could get cool green screen effects. Just go ahead and do a search for a chroma under your filters.
Load Multiple Videos
You can also load multiple videos to make a music collaboration and change up the size and positions of the windows as much as you want. Shotcut will automatically insert a video track and add your video file to that track.
Always Update
If you're running the current version and if an update is available you can download it. However, it is always updated. Whenever there is a new update online, you can update to the latest version with one click.
Key Features and Highlights
Supports a lot of audio and video formats
Supports many image formats like JPEG, BMP, GIF, PNG, BMP, TGA, TIFF, WebP, SVG
Webcam and audio capture
4K resolutions support
Native timeline editing without importing
Seeking frame-accurate for formats
Text, color, counters, and noise generators facility
Exports CMX3600 Edit Decision List
Audio scopes such as waveform, peak meter, loudness, spectrum analyzer
Audio mixing
Video compositing facility
3-way color corrections shadows, highlights, mids
Auto-rotation
360° Video Filters like Equirectangular Mask 360, Equirectangular to Rectilinear 360, Stabilize 360, etc.
Reversing a video clip facility
Shotcut Video Editor 32-bit/ 64-bit System Requirement
Minimum Hardware Requirement
Processor: Intel or AMD processor, 2GHz or above and 4 cores for 4K resolution
Memory: 4 GB for SD, and 16 GB for 4K
Graphics Card: OpenGL 2.0 or any card with compatible DirectX 9 or 11 drivers
Display: 1366 x 768 or better
Hard Disk: 1 GB free space
Supported Operating system
Windows Supports: Windows 11, Windows 10, Windows 8.1, Windows 8, Windows 7
OS Supports: 32-bit or 64-bit
Screenshots: