Download Avira Free Antivirus 2022 for PC such as Windows 32-bit and 64-bit. Award-winning free antivirus, privacy, and fast performance tool. Here FileOur offers the complete free latest version of Avira Antivirus Offline Installers direct download from Avira GmbH official site.
Avira Free Antivirus 2022 Overview
Avira Free Antivirus helps you to clean all types of malware viruses, Trojans, worms, spyware, unwanted programs, and all other dangerous content. It's the most powerful flagship security product and trusted antivirus by millions of computer users around the world.
Avira provides a free version as well as a pro antivirus to give users maximum security. Although the free version lacks some features still it is a very effective program compared to other antivirus programs.
Easy to Use
The antivirus has a clean and user-friendly user interface so it is very easy to use. However, it will be a little difficult to customize the free antivirus of your own choice. So be a little careful to customize the settings.
Protect Your PC
There is have very comprehensive and flexible tools to protect your computer against any threat files. The antivirus can secure your personal data, software, home network and also protect your privacy while you using websites in search results.
Free Virus Scanner & Cleaner
Avira has been protecting your computer against all types of viruses, malware, adware, Trojan, or any Internet spy. So far the name of the top anti-virus is the middle name of Avira. Avira helps you to give high-level security to your PC. You can try the free version before using the Avira Antivirus Pro version.
High Performance
However, this free anti-virus can be used on your low-configured PC or high-level PC. It will protect you much more from the sites that you are tracking online.
Its backup system is very active which will keep you safe from losing unwanted files.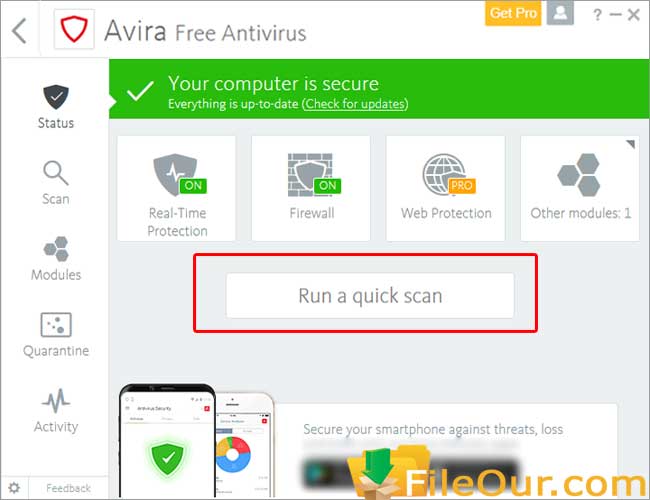 Fast and Powerful Security
Above all, there is a have very powerful external protecting data to flash drive, memory card, and USB virus protection, etc. You can also use alternative free virus remover software such as Avast or AVG.
Free Add-ons
During setup of antivirus, it automatically provides such as additional free add-ons like privacy-based web browsers, VPNs, etc.
Safe Browsing
While you browsing any website it automatically locks infected websites, browser trackers, and other intrusive ads. This will allow you to stay safe from harmful sites.
Key Features and Highlights
Real-Time Protection your PC
Scan for Rootkits and active malware
Boot records scan
Scan via context menu
Scan separate files as you like
System scan via the Scheduler
Drag and drop scan facility
Always up-to-date with automatic updates
Can also be a built-in Avira manual update
Avira Antivirus 64-bit/ 32-bit System Requirements
Minimum Hardware Requirement
Processor: 1 GHz Pentium
Memory: Min. 1,024 MB RAM
Hard Disk: 800 MB
Supported Operating System
Windows Support: Windows 11, Windows 10, Windows 8.1, Windows 8, Windows 7, Windows Vista, Windows XP
OS support: x86 and x64