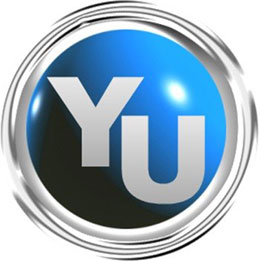 Download Your Uninstaller Pro for Windows 11, 10, 8, 7
Uninstall any unwanted software in a few steps.
Your Uninstaller is an easy to use uninstaller application for Windows. Users like to use this application because it uninstalls a program quickly and efficiently.
Why Use?
You might have some programs installed on your PC. But now you don't need them. You may have noticed your control panel has an "Add/Remove Programs option. The option basically serves the same purpose except for one main flaw.
Windows typically only includes programs that include an uninstall file when downloaded. Although most programs do, some do not. Including many that are embedded with viruses as it makes it harder for you to remove. With CCleaner, you can now remove all programs, even ones without uninstalling files. This can also free up a large amount of space on your hard drive. So you can save money you would have to spend on more storage.
It helps to eliminate all leftovers after uninstalling an application. For example, you uninstalled a program. Now we often see that there are many registry entries and other such unwanted things. These unwanted things occupy your valuable storage. So this lightweight program will come in handy to remove such useless leftovers.
Features
First, check the full features of the software and instantly download the full and final free version.
Software Removal Tool
It will easily completely uninstall any unwanted software or program. Just drag and drop on this uninstall software and remove your unneeded software in two different ways. One way is quickly uninstall and another way is advanced uninstall.
1. Quickly Uninstall Software
Your Uninstaller Pro quickly uninstall or remove your unwanted software. Run this software then select your unwanted program and just click on the 'Quick Uninstall' button to automatically completely uninstall your unwanted program.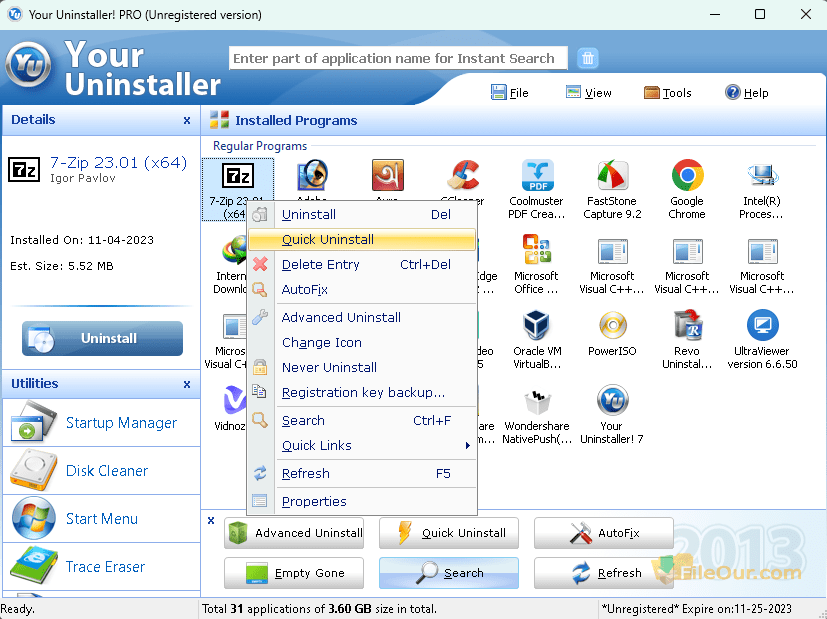 2. Advanced Uninstall Software
Your Uninstaller Pro also have very powerful tools in advanced mode. Run this software then select the unwanted program. Now click the 'Advanced Uninstall' button to uninstall your program step by step in the following window.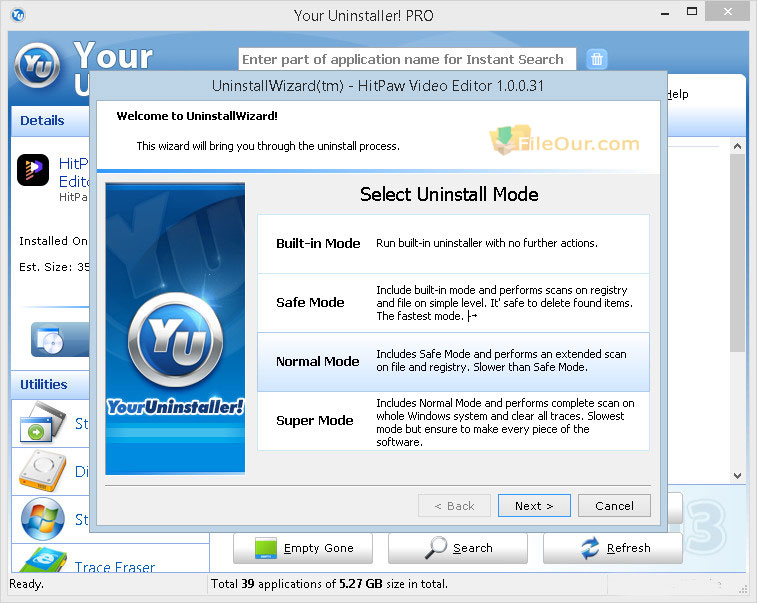 Startup Manager
Your Uninstaller Pro is also friendly to manage all your startup programs. If your Windows startup is slow down you can easily disable the infected startup program in your system windows.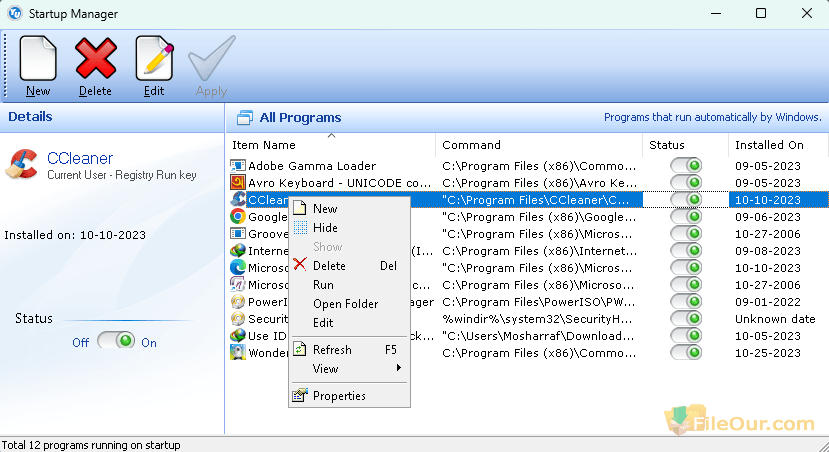 Disk Cleaner
If your hard disk is low for any jam, temporary or unwanted files and folders, the software quickly clean your hard disk and get free more space for your hard disk.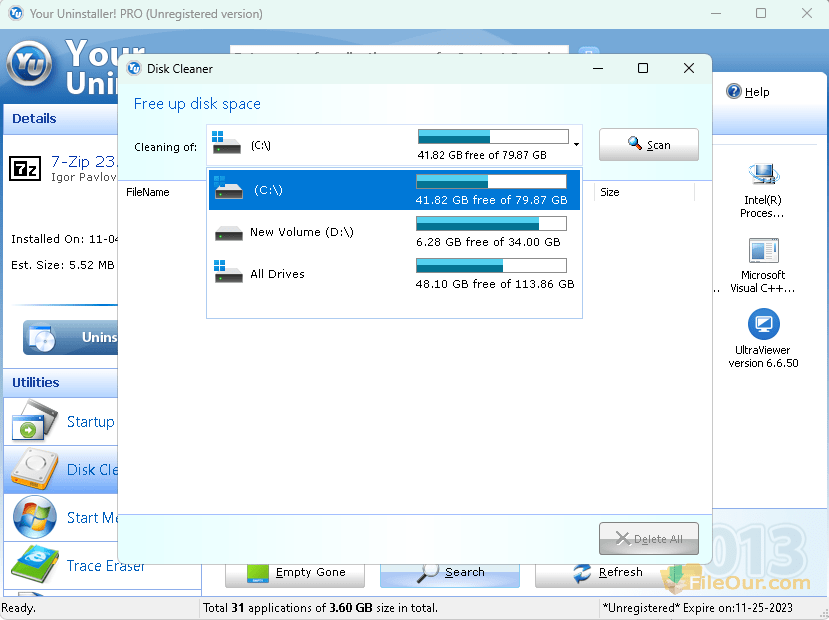 Customize Start Menu
It has a startup organizer that helps users to be safe from unwanted auto-run programs. Here you can delete, edit or apply any unwanted auto-run program. In this case, In this case, you can add a new program to Windows startup. This is an extra powerful bonus. When you install Your Uninstaller full version the startup manager is automatically installed with this software.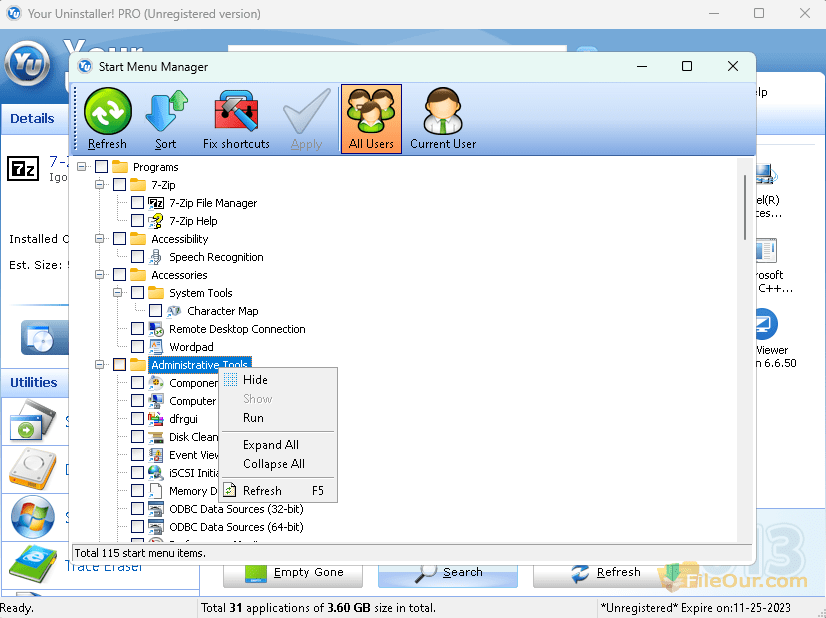 Easy Uninstaller
Your Uninstaller easily and quickly cleans any small and big software. This is the most exciting program to completely remove, delete and uninstall any PC software. While you uninstall any software Your Uninstaller strongly scans from deeper into the system. This software has two different modes such as Windows Drug mode and Hunter mode.
File Shredder
Do you know? Deleted files can be recovered from a PC with this program. Even after formatting the disk. You can get back the desired files by doing a system restore. Do you need to permanently destroy important files? Now use Your Uninstaller's "File Shredder" tool.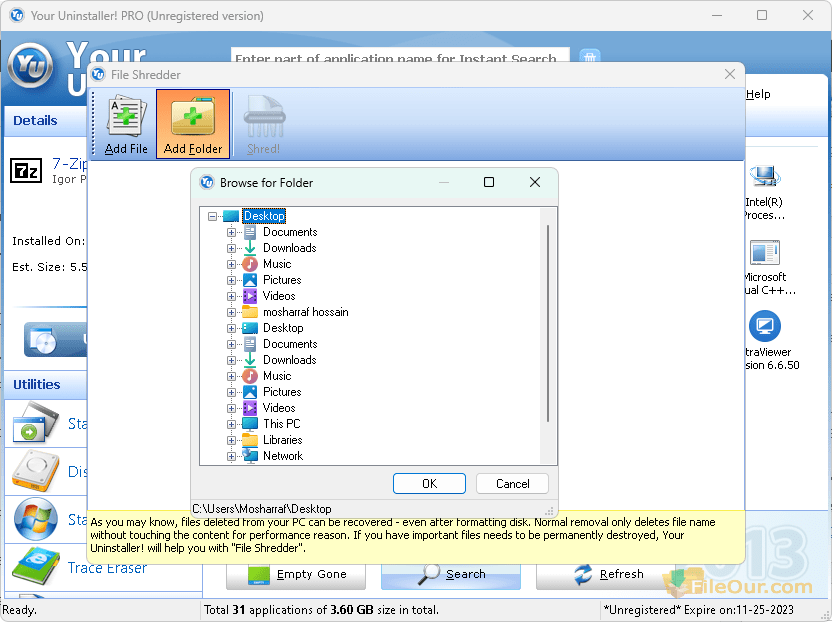 Trace Erase
The features help to clear Microsoft Internet Explorer Settings. Clean Cookies, Search History, Browser History, Passwords, Temporary Files etc.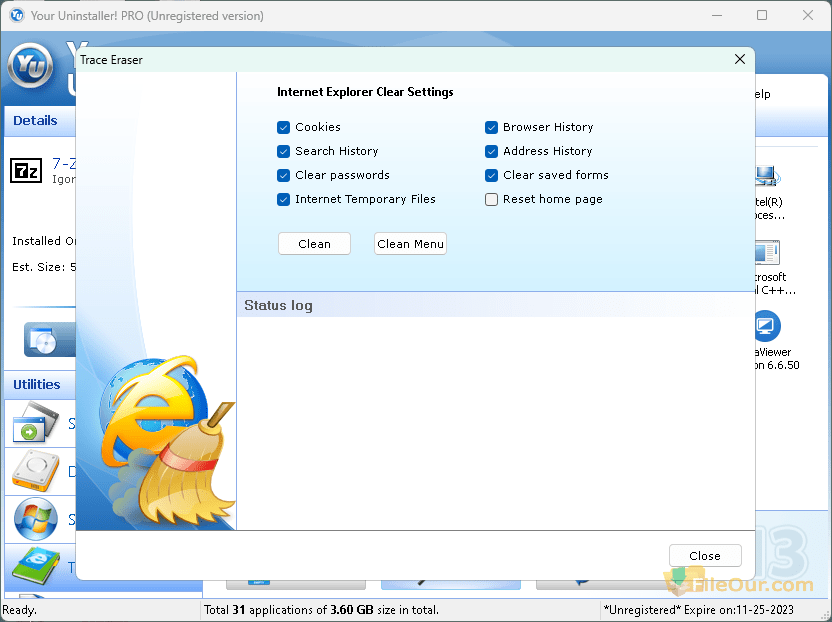 Invalid Install Software Fixer
Any invalid, error or corrupted software already installed in your computer, the uninstaller very carefully traces all then safely fixes them to speed up your program startup. If your software is infected this uninstall software automatically alerts you when you install virus-effective software. So this is the best way to fix invalid software.
Simple Interface
In addition, it has a clean and intuitive interface that makes the program easy and user friendly. With a simple procedure, you will be able to uninstall a program from your computer. First of all, it activates the uninstallation and after finishing that it cleans the useless registries. So, download this application for free to trial and see how it works.
There are plenty of uninstaller programs in the market now. Among them Your Uninstaller! is undoubtedly a good one. Even then, if you do not like this program, you can download Revo Uninstaller Free.
Note: You can use it completely free for a 21-day trial.
Your Uninstaller Pro System Requirements
Hardware Requirement
CPU: Minimum Intel Pentium processor 1 GHz or higher.
Hard Disk: 512 MB or above free space for complete installation.
Memory: 512 MB of RAM
Supported Operating System
Windows System – Windows 11/ Windows 10/ Windows 8 / Windows 7 / Windows XP SP3
OS – Available for both 32-bit and 64-bit
Technical Details
| | |
| --- | --- |
| Latest Version: | Your Uninstaller Pro 7.5 |
| License: | Trial |
| Publisher: | URSoft,Inc |
| Main Category: | Uninstallers |
| Setup File: | yusetup.exe |
| Package Size: | 7.42 MB |
| Uploaded: | Publisher |