Free screenshot software for PC. Lightshot free download full version for Windows 11, 10, 8, 7 (32-bit/64-bit). (Latest version 2022).
Easy Screen Capturing Tool With Browser Add-ons
Screenshot refers to taking pictures of your computer screen. Sometimes we have to take Screen Shot on our computer. And if you are a blogger, then there is no talk. Good quality blogging cannot be imagined without a ScreenShot.
That's why you need simple screenshot software. Even better if it is free. Lightshot 2022 is also a full-free screen capture software which you can easily take a full screen or partial images of your PC.
Browser add-on
Skillbrains brought a version called Lightshot browser add-on to their screenshot software. This add-on can be installed on your Google Chrome browser, Opera browser, and Mozilla Firefox. Lightshot Chrome extensions, Lightshot Firefox add-ons.
It will add a new button to your browser. You can take a screenshot easily any part of the screen in your browser or just with that button. And save on your PC.
Easy Screenshot Utility
Lightshot is an easy screenshot software. This can save pictures of a specific part of your desktop according to your needs. Together you can edit it directly like your mind. You can edit Screen Shot with pen, line, arrow, rectangle, marker, or colour.
Share
Even if you want to add the additional text you can add it. You can upload the image directly to prntscr.com's own server before saving it. You can also share your friends on Twitter, Facebook, Blogger, and Pinterest.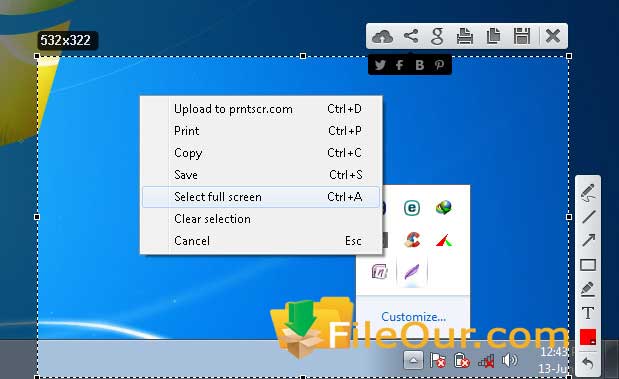 How To Use Lightshot Screenshot
Lightshot software is very easy. It all functions also the full friendly. You can control it very easily with Hotkeys. You can also select Hotkeys according to your needs. How to use it according to the default functions, I have shared a few tips here.
Press the 'Print Screen' on your keyboard to take a screenshot
Select area of your computer screen
Now edit it as your own choice
At last press 'Ctrl+S' to save your screenshot by image format
Save it to JPEG, PNG format. But you can print that image directly from you. While you can take a screenshot You will get the options tab Now select your option and finish screen capturing.
Lightshot Screenshot Download For PC
FileOur.com offers the Lightshot 5.5.0.7 download for Windows 11, 10, 8, 8.1, 7, Vista, XP, and of all Windows servers like operating systems 32-bit and 64-bit. So now direct download the full version for PC. If you love using it, definitely share it with friends.
It works as a free image editing program as well as capturing your desktop screen. So now free screen capture software downloads from the site and enjoy this.
Key Features and Highlights
Simple screenshot program
Free Image editing software
Easy and effective all configuration
Download and sharing facilities
The convenience of direct uploading
Automatically copy a link after uploading
Multiple language support
General Hotkey facility
Instant save of the fullscreen
Standard clean, flush and high-resolution image quality
Capture a cursor on a screenshot
Share screenshots via the Internet
Technical Details
| | |
| --- | --- |
| License: | Freeware |
| Publisher: | Skillbrains |
| Main Category: | Utilities, Screen Recorder |
| Operating Systems: | Windows 2000/95/98/Me/NT/Windows 11, Windows 10, Windows 8, Windows 7 OS x86/ x64 |
| Uploaded: | Publisher |